WFH Tips from the Wellcom Team
POSTED 29th September 2020
Working from home (WFH) is the new normal for many of us.
After doing it day in, day out for a number of weeks (and for some, months!), we've all found our ways of adapting and creating new routines that help us relax, and stay motivated.
So, we asked our team—if you could give someone one piece of advice about WFH, what would it be?
Here are the results!


---
Tips for Families
For parents and carers in the Wellcom team, WFH is only one part of the curriculum.
Thomas Webber
Integrated Producer
"I take my two 4-year-old sons for a run at 5:30pm every day to make sure they burn that energy up. I think it's incredibly important you get outside the house every single day."
Mel Di Prinzio,
Digital Production Director
"Set yourself a schedule, especially if you are juggling homeschooling with working. Don't be afraid to set some boundaries on your availability, blocking out time to sort the kids makes it (slightly) less stressful to juggle both. Go easy on yourself, it's really tough!"
Pat Condidorio,
Senior Graphic Designer
"I have found having something to work towards has kept me motivated and positive. One example this week is, I've been teaching my girls (who are homeschooling this term) how to ride their bikes on our lunch breaks.



---
Tips for Productivity
Little changes can have big impacts on what we achieve WFH.
Andrea Pufleau,
Digital Strategist
"What has really helped me out is having little 'focus' sprints—usually around 45 mins to an hour. I put on my headphones and the music helps me get into that focus state."
Cathy Silvio,
Graphic Designer
"If possible, have natural light where your work space is located and play some of your favourite music. If you're working on a laptop—take it outside on a sunny day and get some of those Vitamin D rays (slip, slop, slap of course!)."
Ash Ryan,
Studio Manager
"Make sure your home office is ergonomically correct, as well as your posture. I made this mistake at the start which resulted in multiple physio appointments."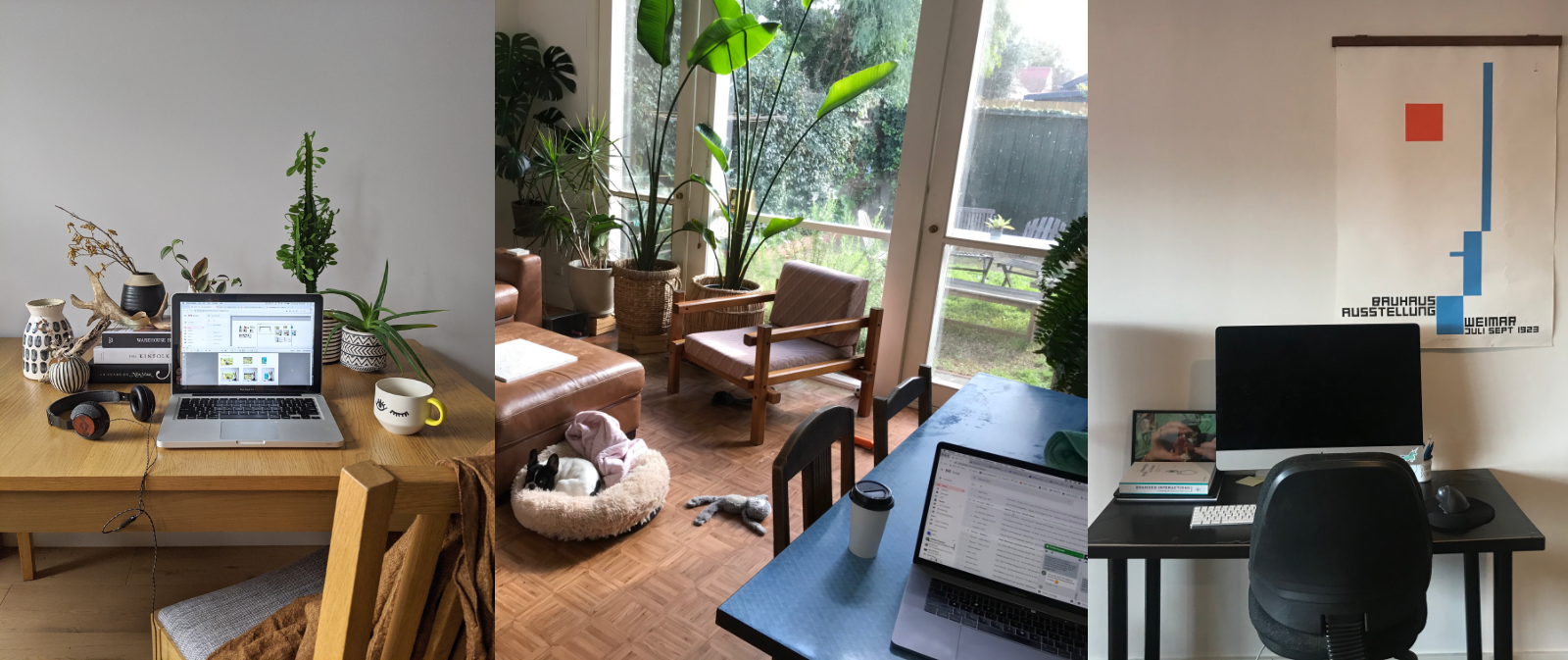 ---
Tips to Stay Connected
Home may be the new office, but that doesn't mean we're a 1-person team.
Thomas Knight,
Account Manager
"What's helped the transition to WFH for me is staying connected with colleagues and friends. A quick text, call or Facetime to just check-in and see how we are going or what we're working on really goes a long way."
Glenn Masters,
Account Manager
"Over the last 4 months, my partner and I have had theme nights. Our themed nights (such as Mexican and Italian) include a meal where we match the food and table, and most times we dress up too."
Deepali Pimparkar,
Java Developer
"WFH is a solo experience but you can make it a team one by interacting with your colleagues through web/video meetings to have project discussions and thus, a more interesting work outcome."
---
Tips to Stay Active
Everyone knows you're wearing exercise pants, so why not use them?
Susannah Bury,
Senior Account Manager
"WALK! I always walked to the office, and while WFH I am still getting up at the same time in the morning, leaving the house and walking around the park or along the river—the same time and distance as my commute. Good preparation for a day in front of the screen!"
Alex Marshall,
Account Manager
"Exercise daily! I start every morning with a run or a swim (sometimes both!) and it puts you in a great headspace for the day ahead."
Jackson Bell,
Video Editor
"While WFH, I always try to go for a walk or take my skateboard for a ride around the streets during my lunch break. Always nice to get some fresh air and enjoy the sunshine, even while in lockdown."
---
Tips for Routine
The commute might be cancelled, but your routine should be right on time.
Yanni Zhou,
Video Producer
"Get 'dressed' and ready as if you were going into the office. I like to wake up at the same time and start my morning in the same way :)"
Clayton Hawley,
Studio Manager
"Since WFH, I've used the extra time not commuting to make myself breakfast each morning. I'm no masterchef, but today it was a chicken and tomato omelette and if I hit the snooze button, it may just be raisin toast or bagels.
I don't think it matters what you cook, what's important is it's a routine I enjoy, it's achievable and it energises me throughout the mornings."